Airport to city center Transfer*
7 - 24 seats
€ 580
28 - 40 seats
€ 640
50 - 56 seats
€ 690
64 - 84 seats
from € 750
Half day in Perugia*
7 - 24 seats
€ 300
28 - 40 seats
€ 330
50 - 56 seats
€ 350
64 - 84 seats
from € 450
Full day in Perugia*
7 - 24 seats
€ 400
28 - 40 seats
€ 440
50 - 56 seats
€ 480
64 - 84 seats
from € 550
Multi-day Tour**
7 - 24 seats
€ 350
28 - 40 seats
€ 380
50 - 56 seats
€ 450
64 - 84 seats
from € 600
These quotes may change.
*Checkpoint not included
**Price per day (max 200 km/day)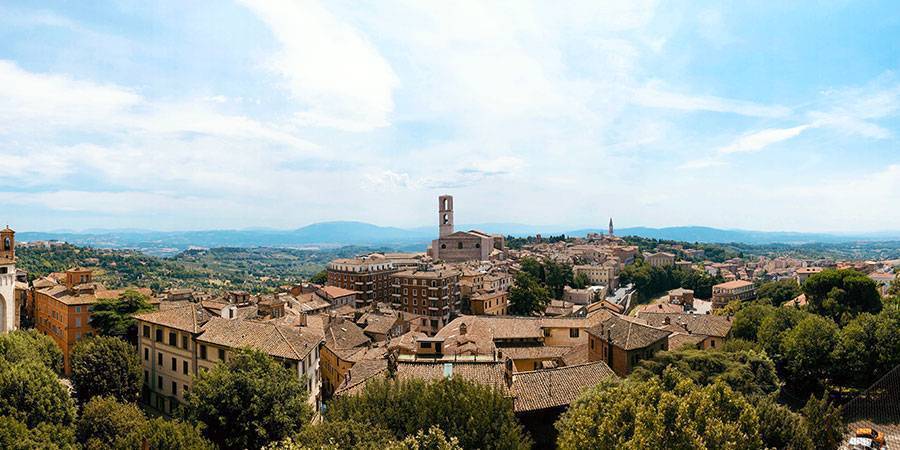 DAY 1: Transfer from the airport to the hotel, located in Perugia or in the surrounding area
DAY 2: Visit to the city – Old Town, Cathedral, Collegio del Cambio, Fontana Maggiore, Palazzo dei Priori, National Gallery of Umbria, Rocca Paolina, Casa del Cioccolato
DAY 3: Trip to Assisi – Basilica of Saint Francis of Assisi, Basilica of Saint Mary of the Angels, Basilica of Saint Clare, Temple of Minerva, Torre del Popolo, Palazzo dei Priori, etc.; then trip to Spello – Chiesa di Santa Maria Maggiore, Chiesa di Sant'Andrea, La Pinacoteca, la Villa dei Mosaici, etc.
DAY 4: Visit to Gubbio – Piazza Grande, Palazzo dei Consoli and Palazzo Pretorio, Palazzo Ducale, Cathedral, Basilica di Sant'Ubaldo, etc.
DAY 5: Visit to Spoleto –Rocca Albornoziana, Cathedral, Fontana del Mascherone, Ponte delle Torri, Palazzo Mauri, Chiesa di Sant'Ansano, Roman Theatre; Then trip to Cascia – Monastero di Santa Rita, Roccaporena, Orto del Miracolo, etc.
DAY 6: Transfer from the hotel to the airport
Which bus is the best for your trip?
Get a free quote for a bus rental. Hop aboard now! Travel on minibuses, midibuses, coach buses or double decker buses in Italy and Europe. Visit Rome, Naples, Venice, Milan, Florence, Turin, Genoa, Perugia, Bologna, Catania, Palermo, Cagliari and many other cities and experience Italy thanks to our Tours on comfortable and safe buses and minibuses. Book your journey to go to weddings, field trips, corporate events, sports events etc. with Oberbus Rental, you will receive a quote via email as soon as possible and you will be ready to go! What are you waiting for? Fill the form and get started!