Airport to city center Transfer*
7 - 24 seats
€ 160
28 - 40 seats
€ 190
50 - 56 seats
€ 240
64 - 84 seats
from € 370
Half day in Palermo*
7 - 24 seats
€ 290
28 - 40 seats
€ 340
50 - 56 seats
€ 390
64 - 84 seats
from € 480
Full day in Palermo*
7 - 24 seats
€ 380
28 - 40 seats
€ 440
50 - 56 seats
€ 490
64 - 84 seats
from € 570
Multi-day Tour**
7 - 24 seats
€ 350
28 - 40 seats
€ 380
50 - 56 seats
€ 420
64 - 84 seats
from € 550
These quotes may change.
*Checkpoint not included
**Price per day (max 200 km/day)v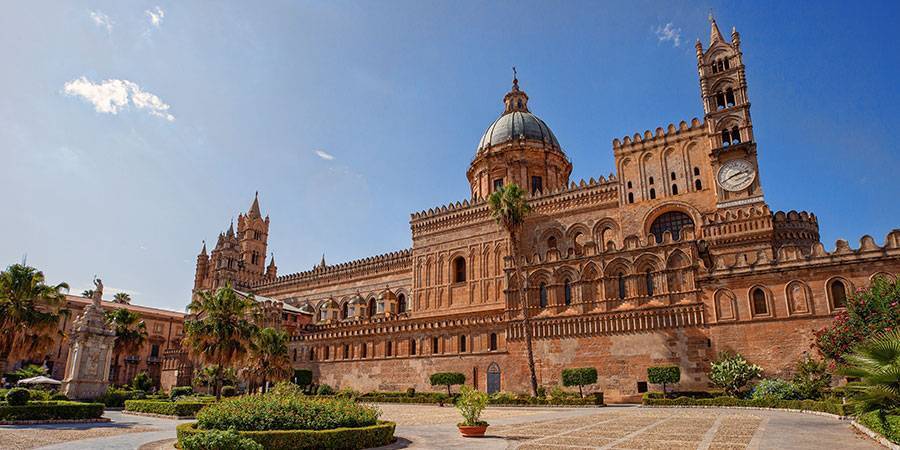 DAY 1: Transfer from the airport/port to the hotel, located in Palermo or in the surrounding area
DAY 2: Visit to the city – Cathedral, Fontana Pretoria, Norman Palace, Cappella Palatina, Teatro Massimo, Chiesa della Martorana, Santuario di Santa Rosalia; then trip to Monreale – Old Town, Cathedral, il Belvedere, Chiostro
DAY 3: Visit to Marsala – Old Town, Stagnone Lagoon, Motya e le saline, Cathedral, Church of Purgatorio; and visit to Selinunte – Quarries of Cusa, Archaeological Site, The Acropolis. Transfer to the hotel, located in Agrigento or in the surrounding area
DAY 4: Visit to Agrigento – Valley of the Temples, Temple of Juno, Temple of Heracles, Temple of Concordia, Archaeological Museum, Stair of the Turks, etc.; then trip to Sciacca – Cathedral, Castle of the Counts Luna, Palazzo Steripinto, Museo Scaglione, etc.
DAY 5: Visit to Ragusa – Archaeological Museum, Giardino Ibleo, Church of San Giuseppe, Cathedral of San Giorgio, Palazzo della Cancelleria, etc.; then transfer to the airport
Which bus is the best for your trip?
Get a free quote for a bus rental. Hop aboard now! Travel on minibuses, midibuses, coach buses or double decker buses in Italy and Europe. Visit Rome, Naples, Venice, Milan, Florence, Turin, Genoa, Perugia, Bologna, Catania, Palermo, Cagliari and many other cities and experience Italy thanks to our Tours on comfortable and safe buses and minibuses. Book your journey to go to weddings, field trips, corporate events, sports events etc. with Oberbus Rental, you will receive a quote via email as soon as possible and you will be ready to go! What are you waiting for? Fill the form and get started!